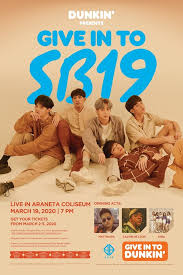 One of our favorite doughnut brand, Dunkin Donut, our go-to brand when it comes to indulgences whether you're kids or a kids at heart. This year, the brand is giving its patrons more reasons to give in!
The brand's appreciation of its customers is put on full display every year during the Dunkin' Day, when they get free donuts and discounts.
Knowing how the youth is so obsessed with K-Pop, Dunkin' will once again indulge them by bringing them closer to Sound Break or SB19 with a major concert at the Araneta Coliseum – "Give In To SB19".
Blending the distinct instrumentals of Koreans with proud OPM vocals, SB19 is the first Filipino boy band trained by Korean entertainment company, ShowBT. The group quickly launched into stardom with the viral fame of their second single "Go Up", and their inclusion in the international billboard Next Big Sound Chart.
As Dunkin's special treat to SB19 fans, "Give In To SB19" concert tickets were given away for free through a prometon, letting fans enjoy their favorite donuts while making sure they get their seats for the concert. In fact, vouchers for VIP seats were exhausted in as quick as 3 minutes.
"Give IN TO SB19" presented by Dunkin' is slated to happen on a later date given the health risks posed by the developing COVID-19 outbreak. In the meantime, let's keep our hearts burning up for Sejun, Stell, Ken, Josh, and Justin until the big day comes!
See you there A'TIN!